Patricia White, DVM, MS,
Diplomate ACVD


Dr. Patricia White has received over twelve years of academic and professional training. She received her BS degree from the University of Georgia in 1977 and is a 1983 graduate of Tuskegee University's School of Veterinary Medicine. After graduation, she completed a 13-month small animal internship at Michigan State University then returned to Tuskegee's School of Veterinary Medicine where she served on the small animal medicine faculty for three years. She completed a three year dermatology residency training and Master's degree program at The Ohio State University in 1990, then was awarded a two-year Merck, Inc. research fellowship, which allowed her to continue clinical fatty acid research initiated during her residency. Dr. White is a board certified Diplomate of the American College of Veterinary Dermatology. She has authored numerous articles for both veterinary journals and lay publications, and enjoys lecturing nationally and internationally. Dr. White is owner of the Atlanta Veterinary Skin & Allergy Clinic, a private dermatology and allergy referral practice established in Atlanta, GA in 1992. She is a member of the AVMA, AAVD, ACVD, Georgia Veterinary Medical Association, and a board member and Past President of the Greater Atlanta Veterinary Medical Society. She has had numerous occasions to consult with the veterinarians at Zoo Atlanta on specific dermatologic problems there. Her professional special interests include ear disease, use of lasers in veterinary dermatology, management of allergic disorders, feline dermatologic disorders, and nutritional therapies for skin disease. In her spare time, Dr. White enjoys traveling, scuba diving, playinig in the dirt (gardening), working with clay, and clay work designs.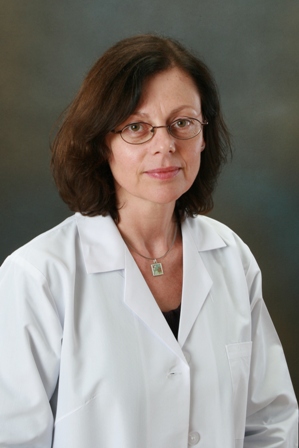 Michaela Austel, Dr. med. vet.,

Dr. Austel received her veterinary degree from the Ludwig-Maximilian-University, Munich, Germany in 1992. She became a faculty of internal medicine for the subsequent nine years and developed an interest in dermatology during that time. She completed a residency in veterinary dermatology at the University of Georgia in Athens, Ga in 2004 and became an assistant professor for dermatology until 2010. She has spent a total of 18 years in academia involved in veterinary student teaching and research. In 2003 she received the resident clinical research award from the ACVD and in 2009 she was nominated for the SCAVMA teaching excellence award. Dr. Austel is a Diplomate of the American College of Veterinary Dermatology. In 2011 she turned her attention to private practice in Virginia and Massachusetts, and now has brought her abundant knowledge and skills back to Georgia. We welcome Dr. Austel to the AVSAC family!